Here are eight key events that contributed to the creation of the modern-day supply chain.
The modern supply chain is a complex animal that's come a long way since the cavemen in the cartoon below were experimenting with the earliest modes of transportation (we're hoping this one didn't make it past the drawing board).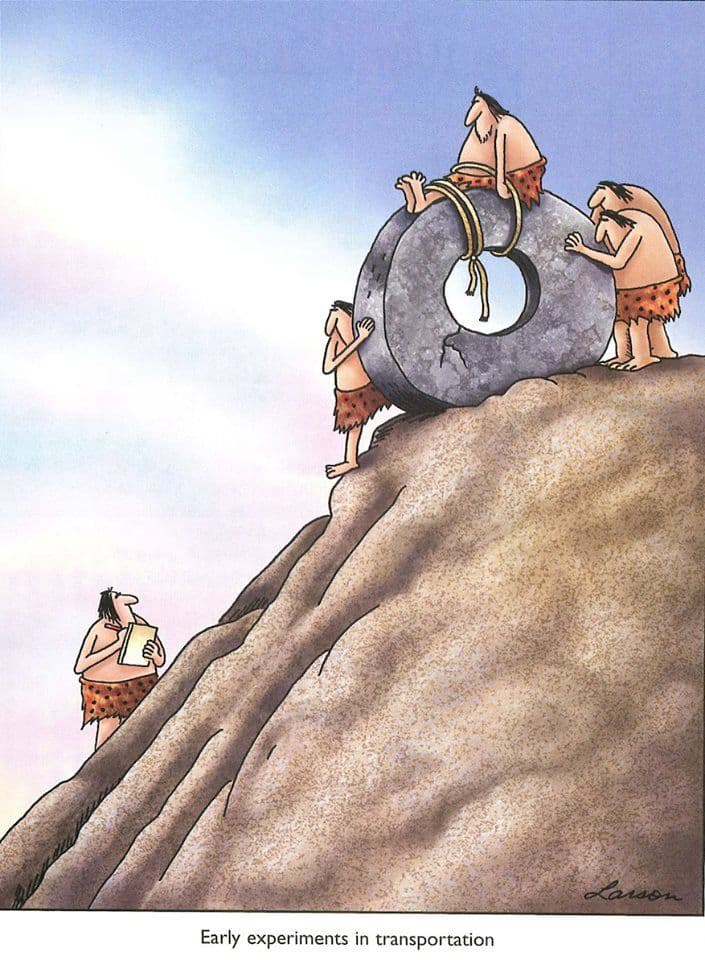 Much innovation and evolution has taken place since those early, experimental days. Fast-forward to 2020 and we're at a point where hundreds of millions of shipments traverse the world's transportation networks every day. Supporting these movements is an ever-evolving technological foundation that includes advanced innovations like artificial intelligence (AI), machine learning (ML), robotics, and business analytics.
The modern supply chain's predecessors were equally as advanced for their time. Here are eight facts you may not know about the history of the supply chain and how it culminated into today's complex, global networks:
Ancient trade routes were mostly linear chains that took finished products to their ultimate destination. Because production and consumption of most items took place locally, the producer and consumer communicated directly with each other. This made for a pretty simple supply chain. "In ancient times, transportation technology was basic and the cost of moving goods was an important determinant of the production and distribution of a product," The Globalist points out. "Thus, goods were put together close to the source of raw materials. Then, these products made their way in a largely linear chain to their end consumer."
The Industrial Revolution broke up that linear chain of command. During the 18th century, shipping technology improved to the point where it could supply the large-scale functioning of international production networks. As the Industrial Revolution took shape, production networks took on a different scale, globalization took hold, and transportation technology witnessed major breakthroughs (i.e., railways, the Suez Canal, and the Panama Canal). "As a result, the cost of transporting goods dropped sharply," The Globalist "Ocean freight rates, for instance, fell 70% between 1840 and 1910."
Supply chain management started in the warehouse. Early efforts were focused on pallet and pallet lifts mechanization (circa 1940-1950) to obtain better warehousing space, racking, and layout. The "unit load" concept and pallet use became popular, extending to transportation management in 1950 by utilizing intermodal containers together with ships, trains, and trucks to transport them. This set the stage for supply chain globalization.
The computer was born. In 1963, the National Council of Physical Distribution Management took a lead role in transferring some of earliest supply chain discoveries over to the world of physical product distribution. Computers came to be right around the same time; this helped push NCPDM's agenda. Up until that point, manual records and transactions were the norm. Then, data computerization created opportunities and innovations in logistics planning (e.g., randomized warehouse storage, truck routing, and inventory optimization).
There's a self-proclaimed "father" of the modern supply chain. Consultant Keith Oliver recalls the moment in 1978 when a light bulb went off while he was a working for a unit of Philips NV. Components in a Philips television, he discovered, traveled an average of 30,000 miles—hopscotching the globe from one step of production to the next before arriving in an American or European living room. U.K.-born Oliver, then in his mid-30s, pitched a solution initially billed as "integrated inventory management." That term eventually became "chain of supply" and, later, "supply chain."
Supply chain management hopped on the technology train. By the 1980s, personal computing was stoking logistics transformation and improving supply chain management. "With access to computers, planning surged ahead with unprecedented graphical interfaces," FlashGlobal points out. "An emergence of new technology like flexible spreadsheets and map-based interfaces significantly improved logistics planning and execution technology." This would continue to evolve throughout the 1990s, when enterprise resource planning (ERP) systems were used to identify planning and integration needs for logistics components.
The cloud changed everything. Today's supply chain is an evolving ecosystem where trading partners can collaborate via the web. Cloud computing technologies are enabling breakthrough innovations in supply chain management (SCM) applications delivered via SaaS (software as a service) models. "By enabling a 'network' view," Accenture points out, "digitization can help companies capture huge savings and competitive advantages by fostering networked processes; optimizing the complete enterprise instead of individual functions; and driving new ways of thinking and working by enhancing visibility, collaboration, and innovation."
Supply chain control towers amped things up. As supply chain managers target greater efficiencies, Accenture says one overarching cloud- based strategy can be used to enhance cost improvements and performance: establishing a "control tower" to coordinate and orchestrate the elements that make up the supply chain. "Control tower systems connect trading partners and service providers," Accenture states, "to create a vibrant, 'always on' electronic community."

The Evolution Continues
IntelliTrans' Global Control Tower provides high levels of supply chain transparency; aggregates, completes, and enhances data from a variety of sources; offers visibility into and execution of different aspects of the supply chain; and generates data-driven alerts and analytics that ask deeper questions and deliver meaningful insights.
By leveraging tracking information, the Global Control Tower provides analytics that measures key performance indicators (KPIs) like fleet cycle time, origin/destination dwell time, lane and hauler performance, back orders, freight spend, load optimization, and more. With their rate, equipment, lease, tracking, and invoice data in a central repository that's accessible 24/7, companies can position themselves for success in any market conditions.