The Challenge
The trucking industry loses an estimated $1.3 billion a year waiting at customer facilities to pick up or deliver cargo. One of the top reasons for driver turnover is wasted time sitting at warehouse docks; for truckers who get paid by the mile, time is of the essence. Inefficient dock scheduling and yard operations also negatively impact shippers both in terms of higher rates and lost productivity. In fact, most shippers and consignees estimate their schedulers spend 40% of their time scheduling and managing appointments.
IntelliTrans' dock door scheduling tool, DockMaster℠, is a SaaS-based application that provides the real-time visibility necessary to make scheduling dock appointments easier and more accurate. By using DockMaster, shippers and carriers can improve communication and reduce errors, improve labor planning and use reporting tools to measure performance. Shippers use DockMaster to schedule pickups and deliveries by their selected carriers, routing them to a pre-assigned loading or unloading door. And, carriers can schedule dock appointments quickly and easily via DockMaster without having to make time-intensive phone calls.
Features
Automatic or interactive scheduling (your choice)
Efficient, real-time visibility and communication
Business rule customization
Advance shipping notifications and proofs of delivery
Cycle time and other types of performance reporting
Configure an appointment book for any location in minutes based on that location's business rules

2 doors or 200 doors
4 hours per week day or 24 hours 7 days per week

Allow carriers to schedule directly from their browser or require approval for the requested appointment
Allow inter or intra-company visibility of load status - a boon to customer self-service
Use scheduling as part of a comprehensive IntelliTrans TMS solution, or use it as a stand-alone
Use outbound and subsequent inbound scheduling to provide Advance Shipping Notification and Proof Of Delivery up and down the supply chain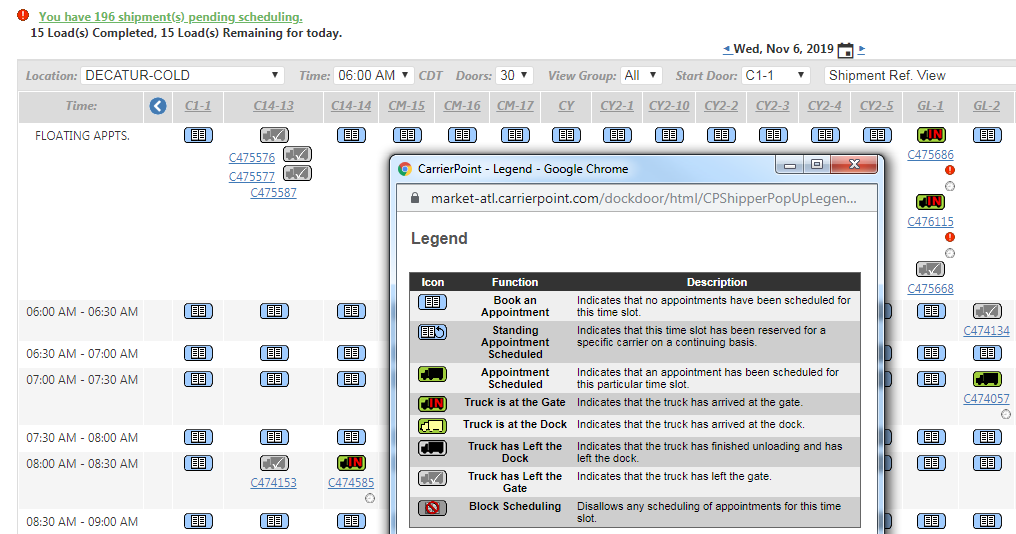 Easy-to-use
It's the cloud – login anytime and anywhere
Carriers, keep your drivers on the road - not waiting around at the docks
Shippers, achieve labor cost savings, reduce administrative costs, and reduce detention charges from carriers
Gain efficiency and reduce congestion at the docks
Improve communications with business partners
Maximize the use of dock assets
Improve labor planning
ONE SHIPPER WENT FROM 64% OF LOADS SUBJECT TO DEMURRAGE TO 15%, IN THE FIRST MONTH!