A technology that originated in the 1960s has come of age in the transportation realm, where GPS tracking is being used across myriad different modes and routes.
A worldwide radio-navigation system originally designed for the U. S. military, global positioning system (GPS) tracking has come a long way since NASA scientists and the U.S. Navy began tinkering around with satellite-based tracking in the mid-1960s. That work spilled over into the 1970s, when the Department of Defense (DoD) launched its first Navigation System with Timing and Ranging (NAVSTAR) satellite.
As the technology evolved, the number of use cases for it proliferated. "Today, GPS is a multi-use, space-based radio navigation system owned by the U.S. Government and operated by the U.S. Air Force to meet national defense, homeland security, civil, commercial, and scientific needs," NASA explains.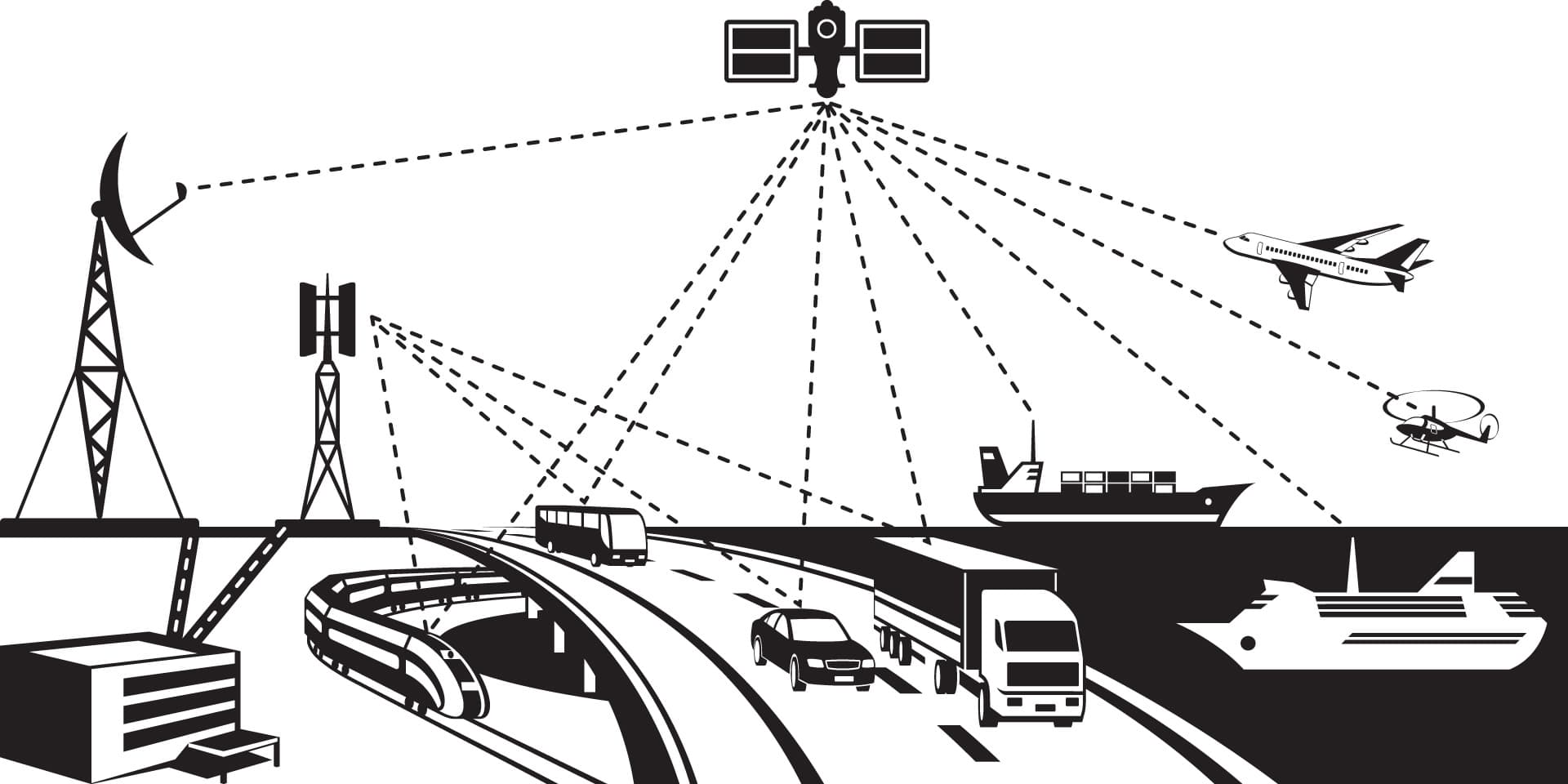 Planes, Trains, Automobiles
Used in the smartwatch that tracks the number of steps you take in any given day and the special dog collar that keeps you updated on your pet's location, GPS technology has had a profound impact on the transportation sector. Using a network of satellites orbiting the earth, GPS tracking devices can figure out precise locations of pretty much anything that they're attached to—trucks, planes, trains, and ships included.
"As timing and sticking to a schedule are crucial to any fleet's ability to maximize profits," Fleet Equipmentmagazine states, "many fleets are turning to software solutions to ensure increased driver accountability, including by using real-time GPS tracking devices."
Here are six ways GPS tracking helps improve the overall safety, efficiency, and accountability of global transportation networks:
Gives drivers autonomy. They can use it to take more ownership over their jobs; gain clarity of tasks and results; and self-correct and improve without the need for micromanagement. "Even well-intentioned drivers may discover that there are areas of improvement that could make them more productive," Fleet Equipment Armed with this information, companies can work to improve driver training methods, reward their safest drivers, and address problematic driving behaviors.
Creates high levels of accountability. Using GPS tracking systems, drivers, carriers, and shippers can verify on-time arrival at customer sites. This helps to eliminate the reporting and logging burden, both for employee and employer. It also creates a virtual "paper trail" for future verification purposes.
Makes transportation very transparent.

The ability to track trailers, as well as other commercial vehicles reduces the chances of unauthorized use, theft, and promotes better utilization of assets. "Tracking provides peace of mind by being able to locate the exact position of a trailer at any given time," Sarang Pharate notes in

5 Key Things You Should Know About Trailer Tracking Solutions.

"It also enhances operational efficiency, as you can update the shippers about a trailer's location if they ask for it."
Helps you optimize routes. No company can afford to waste time, fuel, or manhours in today's competitive business environment, yet that's exactly what can happen when transportation routes aren't optimized. Some GPS tracking solutions come with route optimization tools that you can use to plan out efficient routes and identify opportunities to further streamline once the route is completed,according to Samsara.
Improves overall fleet security.

GPS vehicle tracking also helps enhance fleet security. "If a vehicle goes missing, a GPS tracker can help you locate and recover the stolen or misplaced asset faster," Samsara points out, noting that some GPS truck tracking systems allow you to set alerts if a vehicle is used during off-hours, or if an asset leaves a pre-designated area.
Puts more hours in the day.

With a GPS tracking system

, fleet managers can identify potential traffic hold-ups and reroute accordingly, reducing time spent in traffic jams. A good GPS fleet tracking system also delivers detailed reports that fleet owners can use to make data-based decisions for their operation (for example, whether or not to use a specific route in the future, or when to bring a vehicle into the shop for a repair).

Tracking the World's Transportation Fleets
IntelliTrans' Global Control Tower provides high levels of supply chain transparency; aggregates, completes, and enhances data from a variety of sources; offers visibility into and execution of different aspects of the supply chain; and generates data-driven alerts and analytics that ask deeper questions and deliver meaningful insights.
By leveraging tracking information, the Global Control Tower provides analytics that measures key performance indicators (KPIs) like fleet cycle time, origin/destination dwell time, lane and hauler performance, back orders, freight spend, load optimization, and more. With their rate, equipment, lease, tracking, and invoice data in a central repository that's accessible 24/7, companies can position themselves for success in any market conditions.